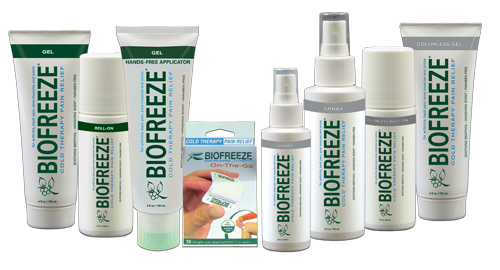 Product Features
• Applies easier and penetrates quickly
• Enhanced and more natural formula
• Colorless (dye-free) options
• Proprietary herbal blend
• 100% paraben-free
• Effective skin conditioners
• Greaseless and non-staining with vanishing scent
• Manufactured in the USA
• Not tested on animals
Biofreeze is the #1 clinically used and recommended topical analgesic. The new formula is more natural than ever and is now 100% paraben-free and is available in both Green and Colorless versions.
Biofreeze Pain Reliever delivers targeted pain relief with the benefits of cryotherapy to treat athletic and muscle related injuries, sore or strained muscles, shoulder and arm discomfort, neck, hip and leg pain, back pain, painful joints, ankle or foot pain, and pain associated with bruising, and arthritis.
How Does Biofreeze Work?
Laboratory researchers have discovered that menthol stimulates the TRPM8 cold receptors. It has long been accepted that cooling and cold can induce analgesia but it has been a poorly understood mechanism. Scientists have continued to isolate the specific heat-sensitive transient receptor potential (TRP) channels within our sensory neurons and we are now able to have a much better understanding of the body's cutaneous temperature detection. With isolation and continued study of these specific TRPM8 receptors there is now stronger evidence that supports the benefits achieved with the cooling effect of menthol in functioning as a topical analgesic while activating these receptors and the resulting consequent pain relief.
Exercise and Training
Biofreeze Pain Reliever aids in exercise and training. It can ease the after effects of exercise by relieving pain due to an increased range of motion. By applying Biofreeze Pain Reliever before exercise you can take the soreness out of muscles and/or after cool-down to minimize next-day aches and pains. For sore muscles apply directly to the area before and/or after exercise. Combine with massage as needed.