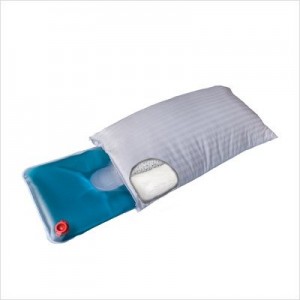 Similar to filling an inner tube, the pillow center never fills. Instead, the more water you add, the firmer the neck lobe becomes. Water pillows without displacement panels just bulge like a dome and cause pronation.
Water instantly responds to changing body positions for comfort
Centered displacement panel keeps water positioned  for proper neck support
Fully adjustable to fit every patient
Can help relieve neck pain and snoring
The Core Deluxe Water Pillow gives you firm support in a therapeutic water chamber enclosed in cotton fiber cushion. Now improved, the orthopedic water pillow features:
New Design! The new oval-shaped embossed center provides comfortable cervical support.
New Materials! Sateen Cotton Cover feels cool and gentle against the skin.
The water pillow's chamber is removable for mess-free filling. The handy support guide makes it easy to choose the correct water level for the firmness desired.
Versatile and fully adjustable, the Core Deluxe Water Pillow will fit any patient. The orthopedic water pillow  works for a variety of neck care needs. If you're  someone recovering from a recent injury – or a healthy person who wants to stay that way – you'll experience proper support and real comfort.
The oval-shaped displacement panel quiets the sound of the water, which is prevented from flowing into the center of the pillow, creating a recessed area that keeps the neck supported.