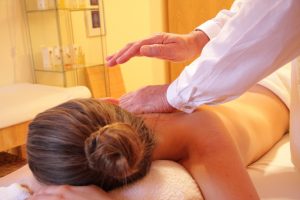 Massage is back starting 4/18/2022!
Massage Therapy Pricing
Swedish Massage       30 min. – $45       60 min. – $80        90 min.-$115
Swedish Massage increases the oxygen flow in the blood and release toxins from the muscles and shortens recovery time from muscular strain by flushing the tissues of lactic acid, uric acid, and other metabolic wastes.
Sports                30 min. – $55             60 min. – $90               90 min.-$130
A sports massage focuses on enhancing circulation, increasing tissue elasticity and reducing muscle tension. Sports massage is also used to help relieve tight muscles. Muscle tightness can limit flexibility, increase pain and cause future injuries. Sports massage helps release muscle tightness.
Deep Tissue      30 min. – $65             60 min. – $100               90 min.-$145
Deep tissue massage is a massage technique that's mainly used to treat musculoskeletal issues, such as strains and sports injuries. It involves applying sustained pressure using slow, deep strokes to target the inner layers of your muscles and connective tissues.
Thai Massage          60 min. – $115
Thai massage combines compression, acupressure, and passive stretching. These increase the range of motion in your joints and muscles. This can also improve your posture. Helps with back pain.
Add Ons:
Cupping: $15.00
CBD Oil: $10.00
Hot Towels: $10.00
Massage Appointment Policy
Massages are booked by reservation only,  notify us within  24 hrs in advance should you cancel to  avoid fees.
The therapist reserves the right to charge $25 for any cancellation of less than 24 hrs notice.
Arrive 10 min prior to fill out proper  paperwork and to receive your time allotted.
The therapist has the right to refuse service if they think the massage could be a contradiction to your health.
Please disclose any current or past medical history that may be relevant  for services acquired.
Client will get remainder of time if they come late to for their  appointment time.
Alcohol is not recommended before, during, or immediately following  massage treatments.
We offer a variety of services with different times intervals and pricing.
Check with the office for dates of Discount Weeks.
Discount prices or other offers not in conjunction with gift certificates.
Gift certificates are sold at regular pricing.
Gratuities are not added in pricing.