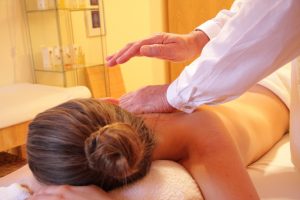 As of 8/1/2020 Unfortunately, we do not have a massage therapist available for massages.
Massage Therapy Pricing
Swedish Massage                      25 min. – $35               50 min. – $60               80 min.-$85
Swedish Massage increases the oxygen flow in the blood and release toxins from the muscles and shortens recovery time from muscular strain by flushing the tissues of lactic acid, uric acid, and other metabolic wastes.
Therapeutic  Massage                25 min. – $40             50 min. – $65               80 min.-$90
Deep tissue massage is a type of massage aimed at the deeper tissue structures of the muscle and fascia, also called connective tissue. The pressure will generally be more intense releasing chronic muscle tension or knots (also known as "adhesions.")
Hot Stone Therapy (not available at this time)                                          50 min. – $75               80 min.-$110
Hot stone massage is a specialty massage where the therapist uses smooth, heated stones, placing them on the body while they massage other parts of the body. The heat can be both deeply relaxing and help warm up tight muscles so the therapist can work more deeply, more quickly.
Neuromuscular Therapy/Deep Tissue                                               50 min. – $70               80 min.-$90
Pressure is applied to the skin with the aim of stimulating specific areas of skeletal muscle.  It is a specialized form of manual therapy that utilizes static pressure on specific myofascial trigger points to relieve pain.
Prenatal Massage                         25 min. – $35               50 min. – $60               80 min.-$85
A massage performed after the first trimester that can reduce anxiety, relieve muscle aches and joint pains. It can help with the discomforts associated with the skeletal and circulatory changes brought on by hormone shifts and improve labor outcomes and newborn health.
Reflexology                                 25 min. – $40               50 min. – $65              80 min.-$90
An alternative medicine involving the physical act of applying pressure to the feet, hands, or ears with specific techniques. These "reflex" areas are known to correspond to specific organs, glands and other parts of the body. This can promote health in the corresponding organs through energetic pathways.
Massage Appointment Policy
Massages are booked by reservation only,  notify us within  24 hrs in advance should you cancel to  avoid fees.
The therapist reserves the right to charge $20 for any cancellation of less than 24 hrs notice.
Arrive 10 min prior to fell out proper  paperwork and to receive your time  allotted.
The therapist has the right to refuse service if they think the massage could be a contradiction to your health.
Please disclose any current or past medical history that may be relevant  for services acquired.
Client will get remainder of time if they come late to for their  appointment time.
Alcohol is not recommended before, during, or immediately following  massage treatments.
We offer a variety of services with different times intervals and pricing.
Check with the office for dates of Discount Weeks.
Discount prices or other offers not in conjunction with gift certificates.
Gift certificates are sold at regular pricing.
Gratuities are not added in pricing.