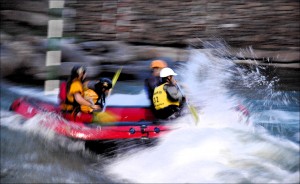 Champions Use Chiropractic
Chiropractic care is used by top players in sports as diverse as golf's Tiger Woods, tennis pros Lleyton Hewitt and Roger Federer and professional football superstars Emmit Smith of the Dallas Cowboys and Tiki Barber of the New York Giants. Competitors from ESPN's X Games, volleyball, surfing, rowing, running, cycling, sailing, weightlifting, handball and more are chiropractic care enthusiasts.
Why is chiropractic care so popular with athletes?
First, chirpractic care helps improve and enhance athletic performance. Secondarily, chiropractic care helps keep athletes on the field of play and may prevent minor injuties from becoming major ones.
Professional Football and Chiropractic

In 2002, 77% of National Football League professional trainers referred players to chiropractors for care and 31% of teams had a chiropractor on staff. Team chiropractors provide reguar care, including adjustments before games and during play as well.
Better Reaction Time, Coordination & Strength
In a study fifty professional atheletes were divided into two groups. They were tested for agility, balance, power, speed and hand reaction time. After three months, the group receiving chiropractic care showed overall improvement of 16.7%, with a whopping 30% increase in reaction time.
Another study of university baseball players tested for vertical jump, standing broad jump, broad jump, muscle strength, pulse rate, electrocardiogram, blodd pressure and treadmill stress testing. The chiropractic group showed significant improvement over the control group.

Runners & Swimmers & Chiropractic
According to Olympic head coach Richard Quick of the University of Texas, "Chropractic is playing a larger and larger role in all forms of athletics… [it] helps athletic performance." Sixteen injured femal long distance runners were placed under chiropactic care. The runners recovered quickly and seven of them later posted "personal best" perfromances.
Severe Trauma
While orthodox medical doctors effectively treat fractures, torn flesh, ripped tendons, dislocations, blood and fluid loss, and other damage that typically needs emeregency treatment they are not trained to locate and correct subluxations. That is where we come in. Chiropractic care can assist in recovering from serious medical procedures and in many cases can prevent having to have surgical procedures at all.
See what our patients have to say »
---
Sources:
Belov D. PGA championship and summertime sports chiropractic. August 1, 2007, www.planetc1.com/cgi-bin/n/v.cgi?c=1&rid=1186876394.