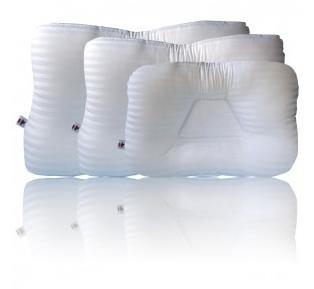 Tri-Core Full size – 24×16″ (61cm x 41cm)
MidSize (Mid-Core) – 22×15″ (56cm x 38cm)
Petite-Core – 19×12″ (48cm x 38cm)
The Tri-Core pillow is known for its effectiveness in correctly aligning the spine and supporting the neck in its natural position to help relieve headaches, neck pain for side and back sleepers alike.
Its patented overall design: a unique trapezoid center and two neck lobes which cushion the head and support the neck, make it the highest quality cervical support pillow available. The Tri-Core is suitable for the Correct and Maintain stages of care.
Hypoallergenic, the down-like feel of Tri-Core pillows provides a sense of long-lasting freshness and superior pillow life. Carefully designed and constructed for better sleep.
Because the cervical curve is supported in its neutral position, using Tri-Core pillows helps to correct nerve malfunction and promotes healing of injuries. More importantly, Tri-Core pillows promote good health while providing maximum comfort by preserving the normal curvature of the neck and spine. The end result? You'll experience an increase in sleeping comfort within a couple of days of using Tri-Core pillows. Others may require up to two weeks before the neck and back muscles adjust to their proper position. At last, restless nights due to pain will be diminished with the use of Tri-Core pillows.